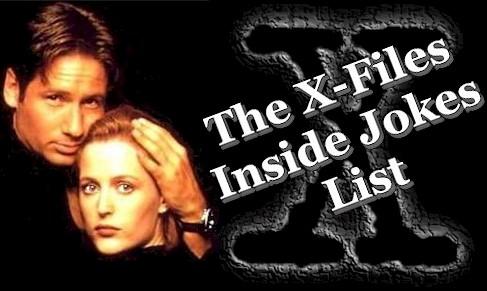 Click for Top X
Vote for this site

January 20, 2016 - Wow, it's been 14 years since this site was last touched. I didn't realize that the
location where part of the site was hosted had gone away years ago (sorry!). I moved the entire site to one location,
so it should mostly work again now (still in its old, original form). Sorry for the years that it spent broken!
December 11, 2002 - Moved from www.nashville.com to our new home at www.lunacynet.com
October 2, 2002 - Finally, an Update!
April 17, 2002 - Removed Script Differences Page per e-mail from Fox's Lawyers
Quickie Scripts Update - March 31, 2002


Want to be alerted when this page is updated? Then join the X-Files Inside Jokes mailing list.
This is my attempt at compiling a list of the inside-jokes from the X-Files. I cannot take credit for recognizing many of them. Although I did manage to notice a lot of them while watching the episodes myself, a lot of them have come from the numerous discussions on the alt.tv.x-files newsgroup. Others come from the six highly informative "official" X-Files books The Truth Is Out There, Trust No One, I Want to Believe, Resist or Serve, The End and the Beginning, and all things. Also, starting in the seventh season, the Official Site has a fantastic amount of behind-the-scenes and research information! Many more in-jokes have also been contributed by on-line X-Philes since this list was first published on the newsgroup.
I am quite sure that the list is not complete, despite our best efforts, so all additions and/or corrections would be greatly appreciated. Thanks again to everyone who has already added to the list. Please send messages to xfiles@lunacynet.com.

Warning: This list does contain spoilers, but each episode is clearly labeled. Read at your own risk.
Season 1 In-Jokes | Season 2 In-Jokes | Season 3 In-Jokes | Season 4 In-Jokes | Season 5 In-Jokes | Season 6 In-Jokes | Season 7 In-Jokes | Season 8 In-Jokes | Season 9 In-Jokes
Multi-Seasonal Jokes | X-Files Movie In-Jokes | The X-Files - The Game | X-Files Script Differences | X-Files Awards & Nominations | X-Files Expo Experiences | What's New
Want to be alerted when this page is updated? Then join the X-Files Inside Jokes mailing list.
If you like this web site, then you will love this book! Written by X-Files location managers Louisa Gradnitzer and Todd Pittson, the book is full of behind-the-scenes anecdotes!

Read more about the book at
Arsenal Pulp Press
or pick it up from Amazon.com
Site News:
1) As always, I am horribly, horribly behind on updating the "Outside/Inside Jokes" page and in responding to some of my e-mail. For those of you who have sent in jokes -- please accept my apologies that they did not make it into this update. I am doing my best to get caught-up.
2) Obligatory husband link -- if you are into figure modeling, please visit my hubby's web page Garage Kit Figure Modeling
This site is acknowledged & featured in the following books:
| | | |
| --- | --- | --- |
| | | |
| Site heavily featured in The Duchovny Files | Site featured in Extreme Possibilities | Site featured in Extreme Possibilities, the expanded version |
Featured as Sci-Fi Weekly Site of the Week for the week of June 24, 2002!!

To check out the other awards & honors this site has won, follow this link.
Previous || Random || Next
This AXFAT! site is maintained by Laura Witte.


Laura Witte - Proud member of The HTML Writers Guild
xfiles@lunacynet.com
The X-Files In-Jokes List © 1996-2003
Legal Notice: "The X-Files" TM and © Fox and its related entities. All rights reserved. Any reproduction, duplication or distribution of these materials in any form is expressly prohibited
Disclaimer: This web site, its operators and any content on this site relating to "The X-Files" are not authorized by Fox. No Copyright Infringement Intended.